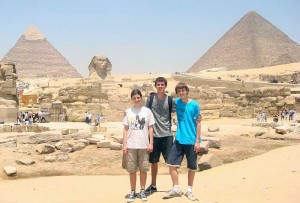 We left Jerusalem bus station at 5 PM and got to Eilat just before 10 PM. Crossing the border form Israel to Egypt took about an hour. Then, for 500 Egyptian pounds (about $100) Dad got a large bouncy taxi van to take us from Taba (across the border from Eilat, Israel). I got the most sleep because I laid down in the back. We arrived in Cairo at 3 AM on Thursday. We hung out in Ramses Square at what we called the cockroach restaurant because of all the roaches on the walls. The largest one was at least a inch. Only Dad ate his rice and very greasy beans. At 7 AM we arrived from a taxi to our couch surfing hosts. Me and the first bed I saw acted as very strong magnets toward each other. I snored away for three hours.
Then we took a taxi into downtown old Islamic Cairo. We climbed two big towers called Bab Zuweila. You could look down into the neighborhood for blocks around. Garbage covered most of it, except all the mosques. Everybody litters because everybody does. Did that make since? Renae asked a shop owner to throw something some of her garbage into a can and he said, "who needs a garbage can?" and threw it on the floor under a counter. Another time our taxi driver threw an empty 2 liter plastic bottle on the street. Everybody tries to keep their own little space clean. Once the person who opens the gate picked up some glass from the front of his building and plopped it on the street corner. Ah!
Our hosts had three children- two girls and one boy. Their ages ranged from 6 to 12. They were believers, and that was a nice surprise. We enjoyed going to church together on Friday. Church is on Friday in Egypt because none of the government offices are open on that day. I have no idea why. After church we went walking by the Nile and took a ride in a water taxi. We saw a dead cow floating past under the bridge. Dad took us to eat at a fancy restaurant called TGIF (thank god it's Fridays) but there was a chunk of dirt in his salad. I liked my milkshake.
On Saturday we went to the Pyramids, and they were amazing. I thought I would be more amazed then I was though. We will put up a separate post on the pyramids and our camel ride.
On Sunday we went to the largest museum in Egypt, and I learned a lot there. I really liked their combs. We might not post more about the Egyptian museum cause everyone knows about King Tut already. That night we took a very crowded and loud (Arabic TV movies) night bus out of Cairo at midnight.
My favorite part of our trip to Egypt was when all became silent. Everything, that is, except for my own breathing. When beautiful and strange creatures meandered about beneath me. Where huge forests of hard and colorful things grow. Most likely you've already guessed what my favorite part of the trip was: Snorkeling. We swam off the coast of Dahab. Dad SCUBA dove three times, and once I followed his air bubbles. They tickled my legs. I loved to break up the really big bubbles with a finger. Lion fish, clown fish, cornet fish, parrot fish and white eels were quite a common sight.
We lost Renae for about 15 minutes at the "Blue Hole". She had on a wet suit so we knew she couldn't sink. She went in with us all but she thought we were swimming ahead of her when we were really swimming behind her, and didn't see her. She swam really fast with a current around a finger of land and had to ask some camel drivers (who told her that they loved her) where all the divers were. By the time she turned to swim back Mom was really worried and Dad went one way and I went the other way looking for her. The search for me was very fun; I had to climb.
That was Monday and Tuesday at the Red Sea, Gulf of Aqaba, where you could look across and see the lights of Saudi Arabia. We took a 2 hour taxi van back up to the border of Israel on Wednesday morning. Mount Sinai (Moses) was somewhere to the west of us but we didn't see it.
I escaped this trip to Egypt safely other than a sore bottom from the camel's saddle poking me, a huge bump from a lead weight dropping on my head when I swam under water, some skin ripped off my heal from sand in my flipper, sunburned legs and a big lack of sleep.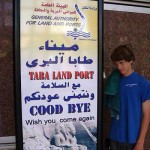 All together we stayed in Egypt for 6 days. The sign leaving Egypt said "Cood Bye". It was mostly a lot of fun but it is good to be back in Israel. Renae and Mom are especially glad to be away from all the guys trying to flirt with them.