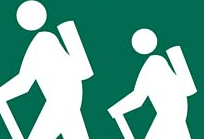 It started out as a normal day…wake up….brush teeth… eat yumynis…home school………when suddenly, I went to the smallish store to buy some food, and the lady who checks stuff out gave me a map that had all the best hikes around Asturias! But still…I thought it was a normal day, and it was. (If you have a spectacular day every day, then you count spectacular as normal and normal as spectacular)
I went home and showed my mom the map and I told her that the lady at the counter had especially suggested that we go up the Pina. I asked dad if we could go on a walk to Pinos, and he stood up… and off we go! 15 minutes later we were trudging up the steep trail. At first, it was about as pretty the Buetiful Mountains we see just by looking out the window, or walking down the street. But as we continued, it became more and more gorgeous. The trees made a canopy above us, we walked through a tunnel of lush leaves. Farther on, we walked through huge rocks. Their was a stream next to all of the rocks, so my family sat down next to it, and we kids made a dam. The rocks looked really cool, so I climbed up one or two of them. Pictures of this feet will be coming soon.
After that we walked the heavily trodden path back to the car. It was just as appealing to the eyes as it was previously.
-Justin